WATER SEAL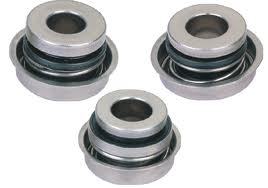 WATER SEAL
Price And Quantity
Product Specifications
For Sealing Use

WATER SEAL
Product Description
A water seal is a type of mechanical seal used to prevent the leakage of liquids, typically water, in various applications. It consists of a barrier that prevents the passage of water between two components, such as pipes, fittings, or containers. Water seals are commonly employed in plumbing systems, industrial equipment, and infrastructure to maintain watertight connections and prevent unwanted leaks.
Frequently Asked Questions (FAQ):
Q: What is a water seal?
A: A water seal is a sealing mechanism used to create a watertight barrier and prevent the passage of water between two components. It is designed to maintain a tight seal, preventing leaks and ensuring the integrity of plumbing systems, industrial equipment, and other applications where water containment is essential.
Q: Where are water seals used?
A: Water seals find application in a wide range of settings. They are commonly used in plumbing systems, such as toilets, sinks, and drains, to prevent water leakage and maintain proper sanitation. Water seals are also employed in industrial equipment, such as pumps, valves, and pipelines, where the control and containment of liquids are crucial. Additionally, they can be found in infrastructure projects, such as dams, reservoirs, and sewage systems, to prevent water seepage or flooding.
Q: How does a water seal work?
A: The specific design and working principles of a water seal can vary depending on the application. However, in general, a water seal creates a physical barrier that prevents the passage of water between two components. It may utilize various sealing mechanisms, such as gaskets, O-rings, or mechanical compression, to ensure a watertight connection. The seal is typically designed to withstand the pressure and environmental conditions of the specific application.
Q: What are the different types of water seals?
A: There are several types of water seals available, each designed for different applications and requirements. Some common types include compression seals, gasket seals, rubber seals, and mechanical seals. The choice of water seal depends on factors such as the specific application, the type of connection, and the desired level of sealing performance.
Trade Information
Telegraphic Transfer (T/T) Cash in Advance (CID) Cheque Cash Advance (CA)

1 Per Day