Ss Corrugated Ptfe Hose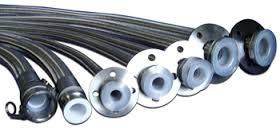 Ss Corrugated Ptfe Hose
Price And Quantity
Product Specifications
Corrugated Hose

For Industrial Use
10-20 Inch

5-10 Millimeter (mm)
Product Description
SS corrugated PTFE hose is a type of flexible hose used in various industrial applications that require chemical resistance, high temperature resistance, and flexibility. It consists of a stainless steel (SS) outer braid and a PTFE (polytetrafluoroethylene) inner tube with corrugations. This combination provides excellent resistance to corrosion, chemicals, and extreme temperatures, making it suitable for demanding applications.
Frequently Asked Questions (FAQ):
Q: What is an SS corrugated PTFE hose?
A: An SS corrugated PTFE hose is a flexible hose constructed with a stainless steel outer braid and a PTFE inner tube that has corrugations. The stainless steel braid provides strength and protection, while the PTFE inner tube offers exceptional chemical resistance and high-temperature capabilities. The corrugated design allows for flexibility and the absorption of thermal expansion and contraction.
Q: Where are SS corrugated PTFE hoses used?
A: SS corrugated PTFE hoses are used in a wide range of industries and applications. They are commonly employed in chemical processing, pharmaceuticals, food and beverage, automotive, and aerospace industries. These hoses are ideal for transferring various fluids, including aggressive chemicals, acids, solvents, and high-temperature substances.
Q: What are the advantages of using SS corrugated PTFE hoses?
A: SS corrugated PTFE hoses offer several advantages. Firstly, they provide exceptional chemical resistance, making them suitable for handling a wide range of corrosive fluids and chemicals. Secondly, these hoses have excellent temperature resistance, withstanding both high and low temperatures. They are also flexible, allowing for easy installation and routing in complex applications. Furthermore, the stainless steel braid provides additional strength and protection against mechanical damage.
Q: Can SS corrugated PTFE hoses handle high pressures?
A: Yes, SS corrugated PTFE hoses can handle high-pressure applications. However, the maximum pressure capacity may vary depending on factors such as the hose size, temperature, and specific application requirements. It is important to consult the manufacturer's specifications and guidelines to ensure the hose is suitable for the desired pressure range.
Q: Are SS corrugated PTFE hoses resistant to external damage?
A: SS corrugated PTFE hoses are designed to provide resistance against external damage. The stainless steel outer braid offers protection against abrasion, impact, and other mechanical stresses. However, it is important to handle the hoses with care and avoid excessive bending or stretching, which can compromise their integrity.
Trade Information
Cash Advance (CA) Telegraphic Transfer (T/T) Cash in Advance (CID) Cheque

10 Per Day
North America Eastern Europe Middle East Africa Central America South America Western Europe Asia Australia

All India